Golden Hour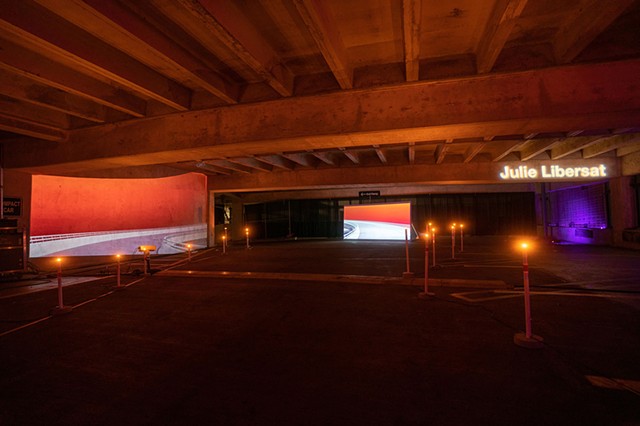 Golden Hour
two-channel video projection, 36 wired brake lights, pvc, cement, reflective vinyl
50' x 100' x 10'
2020
Golden hour is the time just after sunrise and just before sunset when the sky glows gradients of orange and red. In medicine, the golden hour is the window of time after a traumatic injury most critical for emergency treatment.


Golden Hour is inspired by images and video of red skies as forest fires raged around drivers on California highways. The red landscapes are at once terrifying and eerily beautiful. As the world is beset by crisis after crisis, we navigate this moment of transformation and destruction, transfixed. In this state of emergency, the golden hour seemingly envelops the whole day. In the wake of collective crisis and trauma and in anticipation of our future, what critical care do we need?
Area 3, an Aurora Dallas project, was envisioned as a safe socially distanced art opportunity on view from October 2020 to January 2021. A drive-thru art exhibition featuring sixteen regional new media artists and transformed 100,000 square feet of the iconic DalPark parking. Golden Hour featured a winding pathway of brake lights, and two channel video projections of an endless curving highway ramp set against an orange sky.